Analysis and Studies - Products analysis
Telephones: import and export
By SkyMinder Marketing Team May 17th 2023
Although their invention is contested between different people, telephones and smartphones are a staple in everyone's everyday life and overtime, they have become always more important. We use them for online banking, shopping, and listening to our favorite music, among others. The market for the production of mobile phones have increased in the last years thanks to the massive use that the population has been doing. Indeed, mobile phones are the 6th most traded product worldwide, representing 0.015% of the total trade in 2021.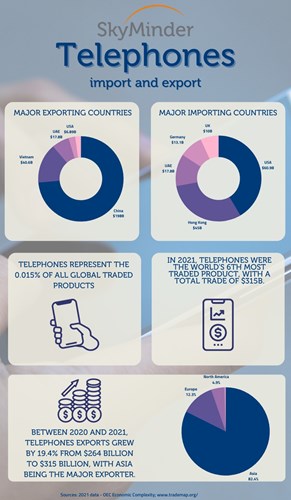 In 2021, the major exporters of mobile phones were China ($198B), Vietnam ($40.6B), United Arab Emirates ($17.8B), the United States ($6.89B), and India ($5.75B). On the other hand, the major importers were United States ($60.9B), Hong Kong ($45B), United Arab Emirates ($21.9B), Germany ($13.1B), and United Kingdom ($10B).
From a geographic perspective, $217.6 billion, or 82.3%, of all mobile phones exported in 2021 were produced by vendors in the Asian continent, with China being, by far, the major exporter worldwide.
European exporters came in second place with 12.3%, followed by North American cell phone companies with 4.9%.
Smaller percentages came, instead, from Oceania (0.2%), with the country of Australia leading the way, followed by Latin America (0.11%), which excludes Mexico but includes the Caribbean states, and, lastly, Africa with only the 0.1% of cellphones exported.
Finally, between 2020 and 2021, telephones' exports grew by 19.4% reaching $315 billion from the former  $264 billion.
SkyMinder: Know Your Business Partner
SkyMinder is the business information platform powered by CRIF, giving access to in-depth credit and financial data on companies all over the world. Thanks to our international presence and long-standing experience with local information providers, every country is available on SkyMinder, without data accessibility limits or updating issues. If you are evaluating the possibility of doing business with a company in this industry, SkyMinder can help you assess your potential partner.
Discover more about our solutions and don't hesitate to contact us!