Analysis and Studies - Products analysis
Spices: a look at the market!
By SkyMinder Marketing Team June 15th 2022
Spices are reminiscent of exotic, faraway, and colorful places. Natural seasoning to add flavor and taste to some of the most amazing dishes. Cinnamon, nutmeg, pepper, ginger, saffron, and vanilla are just some of the most utilized spices. They have many uses: medicine, the food, and beverage industry, cosmetics, perfumery, and more. Spices can be also a natural dye used in the clothing industry. Herbs and spices were also utilized to preserve foods. Most of them grow in Asia and centuries of global trade brought them all over the world. Indeed, the spice trade has important historical and cultural significance.  
Nowadays, the spice market is worth $3.61 billion, and it represents 0.022% of world trade.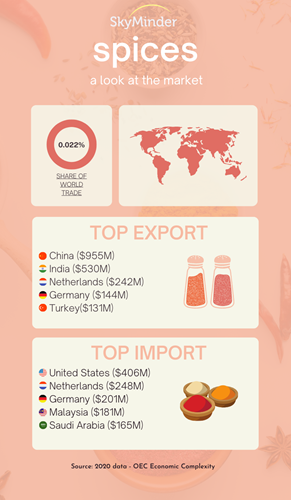 Let's look at the world's import and export of spices in 2020:
The top exporter were China ($955 million), India ($530 million), the Netherlands ($242 million), Germany ($144 million), and Turkey ($131 million).
United States ($406 million), the Netherlands ($248 million), Germany ($201 million), Malaysia ($181 million), and Saudi Arabia ($165 million) were major importers.
Are you evaluating the possibility of doing business with a company in this industry? In foreign trade it is important to find reliable information about the business. SkyMinder can help you assess your potential partner. Discover more about our solutions and don't hesitate to contact us!