Analysis and Studies - Studies
Plant-Based Meat Market
By SkyMinder Marketing Team May 15th 2023
The market for plant-based meat was estimated at USD 4.40 billion in 2022, and it is anticipated to expand at a CAGR (compound annual growth rate) of 24.9% from 2023 to 2030. The market is anticipated to rise as a result of rising consumer interest in plant-based diets and increased awareness of animal rights thanks to numerous welfare organizations. Despite the expanding plant-based meat sector, a few businesses, including Beyond Meat and Impossible Foods, saw a decline in demand for plant-based meat products in 2022. This was largely because plant-based meat products are an expensive product; however, in the last years, their prices decreased.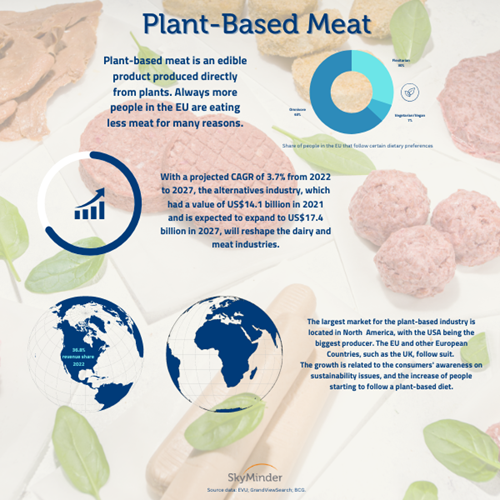 With a total market share of 36.82% in 2022, North America emerged as the most dominant region. Rising consumer awareness of the dangers of consuming tainted meat products and an increase in the usage of meatless meat products are both credited with driving the market growth in this area. With the increased use of plant-based foods, particularly plant-based meat, it is projected that consumer perceptions of food sustainability and safety will change even further.
The market in Europe is anticipated to witness the fastest growth rate on account of a positive consumer outlook on vegetarian and vegan-meat products together with the practice of stringent regulations against cruelty towards animals. Moreover, the European Union is adopting several pieces of legislation which aim at reducing greenhouses emissions and animal cruelty. Key manufacturers are implementing strategic initiatives such as capacity expansion, product innovation, and mergers to increase their sales in the regional market. For instance, in October 2022, Beyond Meat, Inc. launched a new plant-based product; Beyond Steak following the growing demand for plant-based meat from the meat lovers and flexitarian population in the U.S.
The European Union population is also more accepting towards plant-based products, and reducing meat in their diet. For instance, the new survey shows that 37% of the Europeans in the sample identify as flexitarian, vegetarian or vegan.
Moreover, 73% of Flexitarians were eating at least slightly less meat than they did the previous year. 63% said they plan to reduce their meat consumption even more in the future, whereas 40% plan to reduce their dairy consumption as well.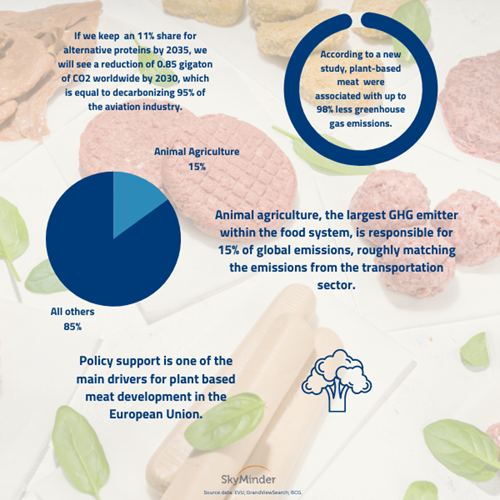 According to the latest studies, the market for plant-based food is growing everywhere in Europe: Germany has the highest numbers with 97% growth in plant-based sales with a total growth of €817m. The UK comes in second place, where the sales values for it grew 73%, followed by Austria, Romania, The Netherlands, Spain, Denmark, France, Belgium and finally Italy which saw the smallest growth, but still a lot of revenue.
People are always more attracted by a plant-based diet because of its sustainable side. Indeed, plant-based alternatives are expected to show a 98% decrease of CO2 emissions compared to its animal products counterparts. Moreover, new policy developments in the EU that are targeting animal cruelty and sustainability are driving the growth in the market. For instance, even if the USA is the biggest producer of plant-based alternatives, the EU is expected to grow its importance into the market.