Analysis and Studies - Country Analysis
Nepal: a look at the market
By SkyMinder Marketing Team May 12th 2023
Nepal is a little mountainous and landlocked country located in Asia just in between the two economic giants: India and China. The country has a turbulent past and it is now a post-conflict situation.
Indeed, the king put an end on the hereditary premier system and implemented a cabinet system that included political parties in the executive branch of government. Political parties were once again outlawed in 1960, ending the arrangement. However, it was restored in 1990 when a multiparty democracy was established within the framework of a constitutional monarchy. In 1996, a civil war, which lasted for 10 years, broke out between the government and Maoist forces. In 2008, Nepal was declared a federal democratic republic; hence, they abolished the monarchy, and elected the country's first president.
The Economy of Nepal
Nepal is generally regarded as a low-income South Asian economy in a situation of post-conflict and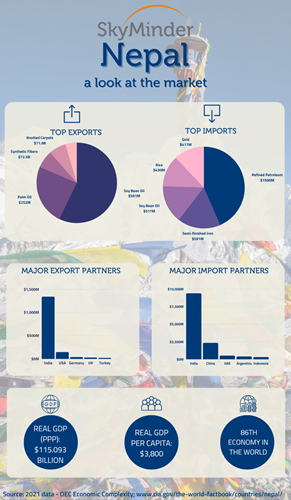 fiscal federalism. In the last two-year-period the pandemic of COVID-19 strongly hurt the country decreasing both trade and tourism, which were two of the most important revenues of the state. Giving its geographical position on one of the most seismic zones on the planet, environmentally speaking, Nepal is fragile and often struck by strong earthquakes. In the last decade, Nepal has been strengthening its economic relations with the Chinese government, which is investing in the country. However, India is still the main trading partner both in terms of import and exports.
The top five products that Nepal exports the most are: soy oil ($591 million), palm oil ($252 million), non-retail synthetic staple fibers ($72.5 million), knotted carpets ($71.9 million), and nutmeg, mace, and cardamom ($47.5 million). These products are primarily sent to India ($1.34 billion), the United States ($144 million), Germany ($36.5 million), the United Kingdom ($27.1 million), and Turkey ($20.2 million).
On the other hand, given its geographical features, Nepal is still a big importer of goods. Indeed, Refined petroleum ($1.5B), semi-finished iron ($591M), soybean oil ($517M), rice ($430M), and gold ($417M) are Nepal's top five imports, with the majority of these goods coming from India ($9.4B), China ($2.32B), the United Arab Emirates ($505M), Argentina ($389M), and Indonesia ($302M).
Nepal has a real GDP (PPP) of 111,093 billion dollars, and it is ranked at number 86 within the world's economy. However, the average population lives with a low-income, as the country only has 3,800 $ of real GDP per capita.