Analysis and Studies - Country Analysis
Mexico: a quick look at the market!
By SkyMinder Marketing Team May 5th 2022
Located in the North America, Mexico is an ancient country with a thousand-year history. A natural paradise that shares frontiers with the United States in the north, the Pacific Ocean in the west and south, the Gulf of Mexico and the Caribbean Sea in the east, and Guatemala and Belize in the southeast.
With a GDP of 1.07 trillion dollars, Mexico is the 15 largest economy in the world. In Latin America, Mexico is a major economic and political force. It has a robust industrial base, vast natural resources, and a broad service sector. Since the implementation of the North American Free Trade Agreement (NAFTA) in 1994, the country's economy has developed gradually, becoming increasingly manufacturer-oriented. Industry accounts for roughly one-fifth of GDP. 
Let's take a closer look at Mexico's exports and imports: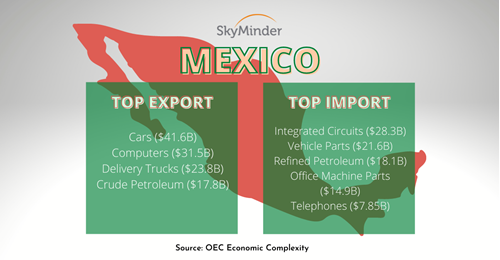 The COVID-19 pandemic severely affected the country's economy. According to data from February 2022, it is expected to grow by 2.3% this year and by 2.6% in 2023, but the investment rate in the country fell from 2019. However, Mexico is benefiting from the strong economic growth that has recently characterized the United States. Indeed, the US is the country's first export ($326 billion) and import ($196 billion) market.
Mexico's other top export markets are Canada ($16.1 billion), China ($8.82 billion), Germany ($8.21 billion), and South Korea ($5.86 billion).  Meanwhile China ($59.8 billion), Germany ($13 billion), South Korea ($10.7 billion), and Malaysia ($10.2 billion) are its biggest imports.
If you are evaluating the possibility of doing business with a company located in Mexico, SkyMinder can help you assess your potential partner. When looking for a new supplier, customer, or partner, it is important to find reliable information about the business we're dealing with. 
Discover more about our solutions and don't hesitate to contact us.