Analysis and Studies - Products analysis
Lemons and Limes: import and export
By SkyMinder Marketing Team March 14th 2023
Used in the most varied recipes in the kitchen, in cosmetics and medicines, and in the domestic environments, lemons and limes are two very popular types of citrus, similar to each other but with some differences.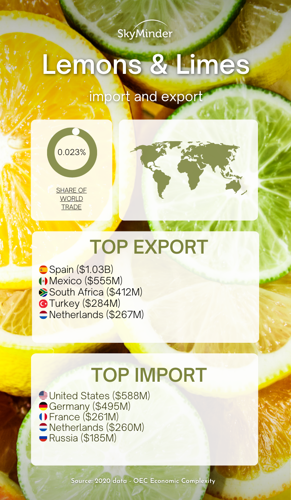 Citrus fruits, which also include oranges, tangerines, grapefruit, and other varieties, grant many benefits to our health, thanks to their abundance of vitamins, plant compounds and fiber. With almost similar percentages of micronutrients, lemons and limes differ in color and shape, as these last ones have a green skin and look rounder than yellow bigger lemons.
Although these fruits are now grown all over the world, lemons typically belong to moderate climates, while limes grow better in tropical and subtropical regions. In 2020, they were mostly exported by Spain ($1.03B), Mexico ($555M), South Africa ($412M), Turkey ($284M), and Netherlands ($267M).
In the same year, the top importers of lemons and limes were United States ($588M), Germany ($495M), France ($261M), Netherlands ($260M), and Russia ($185M).
These numbers made them the world's 740th most traded products, with a total trade of $3.91B, 14.8% more than the previous year ($3.4B). At the end of 2020, trade in lemons and limes represented 0.023% of total world trade.
SKYMINDER: know your business partner!
SkyMinder is the business information platform powered by CRIF, giving access to in-depth credit and financial data on companies all over the world. Thanks to our international presence and long-standing experience with local information providers, every country is available on SkyMinder, without data accessibility limits or updating issues. If you are evaluating the possibility of doing business with a company in this industry, SkyMinder can help you assess your potential partner.
Discover more about our solutions and don't hesitate to contact us!