Analysis and Studies - Products analysis
Jewellery: import and export
By SkyMinder Marketing Team May 23rd 2023
Jewellery is a product that has been used to decorate the body since immemorial time, and it has been used to show off someone's richness or status quo. Broadly speaking, jewelry are part of precious stones, metals, and pearls.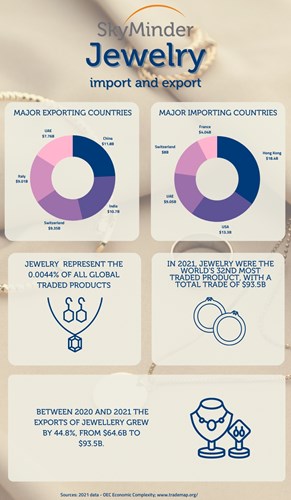 Jewellery ranked 32nd in terms of global trade in 2021, with a $93.5 billion trade volume. Jewelry exports increased by 44.8% between 2020 and 2021, from $64.6 billion to $93.5 billion. Jewellery commerce accounts for 0.0044% of global trade.
China ($11.8 billion), India ($10.7 billion), Switzerland ($9.35 billion), Italy ($9.01 billion), and the United Arab Emirates ($7.76 billion) were the major exporters of jewelry in 2021. On the other hand, the top importers of jewelry, always in 2021, were: Hong Kong ($18.4B) followed by the United States ($13.3B), the United Arab Emirates ($9.05B), Switzerland ($8B), and, finally France ($4.04B)
Asian countries represent the biggest share for exports in this industry. Indeed, more than 60% of the export share of the jewelry market is represented by Asian countries, whereas Europe accounts for a 20%.
SkyMinder: Know Your Business Partner
SkyMinder is the business information platform powered by CRIF, giving access to in-depth credit and financial data on companies all over the world. Thanks to our international presence and long-standing experience with local information providers, every country is available on SkyMinder, without data accessibility limits or updating issues. If you are evaluating the possibility of doing business with a company in this industry, SkyMinder can help you assess your potential partner.
Discover more about our solutions and don't hesitate to contact us!