Analysis and Studies - Products analysis
Gold: import and export
By SkyMinder Marketing Team September 9th 2022
Since the earliest times, humans have always perceived gold as a precious material. Its history is not like any other metal. Given its bright color, brightness, and unique physical properties, gold has always been universally accepted for exchange.
Indeed, not so long ago, coins used to be made from gold, along with silver. From the 1870s through World War I, the gold standard served as the foundation for all global currencies. Today, gold is still precious. It is used as a form of international payment by central banks and is used in jewelry, electronics, and many other products.
Let's look into the import and export of gold in 2020: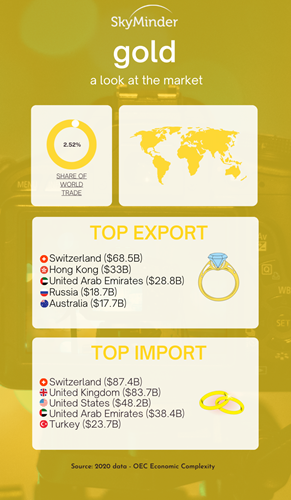 The world's total trade in gold is worth a total of $422 billion, making it the 6th most traded product globally. The top exporters of gold in 2020 were Switzerland ($68.5 billion), Hong Kong ($33 billion), the United Arab Emirates ($28.8 billion), Russia ($18.7 billion), and Australia ($17.7 billion). Switzerland ($87.4 billion), the United Kingdom ($83.7 billion), the United States ($48.2 billion), the United Arab Emirates ($38.4 billion), and Turkey ($23.7 billion) were the top importers.
SKYMINDER: KNOW YOUR BUSINESS PARTNER!
SkyMinder is the business information platform powered by CRIF, giving access to in-depth credit and financial data on companies all over the world. Thanks to our international presence and long-standing experience with local information providers, every country is available on SkyMinder, without data accessibility limits or updating issues. If you are evaluating the possibility of doing business with a company in this industry, SkyMinder can help you assess your potential partner. Discover more about our solutions and don't hesitate to contact us!