Analysis and Studies - Country Analysis
Estonia: a quick look at the market
By SkyMinder Marketing Team May 10th 2022
Estonia is a country located in the northeast of the European continent and along with Latvia and Lithuania, it is one of the three Baltic countries. It gained independence in 1918, but it didn't last long. In 1940, the Soviet Union invaded the country, and its dominium lasted until the 90s, when it gained independence again. In 2004, the country joined the European Union and NATO. It has a thriving and modern economy and a population of 1.2 million people.
Let's go deep into Estonia's economy!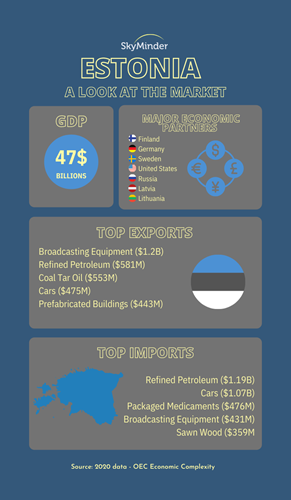 In Soviet times, the small republic was a major industrial hub. Although industry and agriculture continue to play an important role in national health, the service industry and foreign trade are the main contributors to Estonia's GDP, estimated at 47 billion dollars in 2020. Important sectors are wholesale and retail trade, transportation, and hotel and restaurant services (20.5%), industry (19.2%), and public administration, defense, education, health, and social assistance (16.7%). Since the country's accession to the EU, the country has experienced significant growth, and the capital, Tallinn, is home to many businesses. In nearly two decades, it has attracted many foreign investors thanks to a business-friendly fiscal system. 
Estonia's exports in 2020 were worth $16.8 billion dollars. Broadcasting equipment ($1.2 billion), refined petroleum ($581 million), coal tar oil ($553 million), cars ($475 million), and prefabricated buildings ($443 million) are the top exports. The country's exports are mostly directed to Finland, Sweden, Russia, Latvia, and the United States.
Estonia's economy is highly dependent on trade, leaving it vulnerable to external shocks. The total value of imported goods in 2020 was 19.3 billion U.S. dollars. The main imported goods are refined petroleum ($1.19 billion), cars ($1.07 billion), packaged medical equipment ($476 million), broadcasting equipment ($431 million), and sawn wood ($359 million), mostly from Russia, Germany, Finland, Latvia, and Lithuania.
Are you evaluating the possibility of doing business with a company located in Estonia? When looking for a new supplier, customer, or partner, it is important to find reliable information about the business. SkyMinder can help you assess your potential partner. Discover more about our solutions and don't hesitate to contact us!