Analysis and Studies - Products analysis
Clock and watches: a quick look at the market!
By SkyMinder Marketing Team May 3rd 2022
Even in a world dominated by digital devices, many people still wear nice and luxurious watches. They are a real status symbol. Various brands of watches all around the world are still the number one choice for many customers. Indeed, if it is practically obsolete for its intended purpose (everyone can look at the clock on their smartphone), nowadays it is more of a stylish or fashion object. With 600 years of history, the market of mechanical watches is still vibrant and it's worth a value of $37.9 billion in 2020.
Here are the top importers and exporters of watches: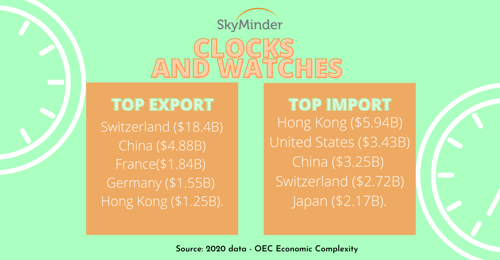 As expected, Switzerland is the main exporter of clocks and watches, with a 48.7% share of the total trade. The country is well known for its premium products and craftsmanship. In second place was China (12.9%), which since the late 1980s has become one of the world's major watch and clock manufacturing hubs. 
The world's biggest importer is Hong Kong (15.7%). The special administrative region is often called the "watch shopping capital of the world" due to its very long tradition of trade with Swiss industry and its many shops. The United States of America is the second largest importer, accounting for 9.08% of total imports.
Unfortunately, the industry felt the economic effect of the Covid19 Pandemic: between 2019 and 2020 the exports of clocks and watches dropped by 19.8 percent, from a value of $47.2 billion to $37.9 billion.
Are you evaluating the possibility of doing business with a company in this industry? When looking for a new supplier, customer, or partner, it is important to find reliable information about the business. SkyMinder can help you assess your potential partner. Discover more about our solutions and don't hesitate to contact us!