Analysis and Studies - Products analysis
Beer: a look at the market
By SkyMinder Marketing Team May 13th 2022
Beer is one of the most popular alcoholic beverages all around the world. In some countries, it is a deeply embedded part of the culture. For example, in countries like Germany or Belgium, it is a major national tradition. Dating back to the Babylonians and Sumerians more than 6000 years ago, the recipe has changed over time. It is now most commonly made from barley, but it can also be made from wheat, maize, and rice. Because of the beverage's success, the brewing business has a crucial economic position in the food industry, resulting in a thriving market worth $15 billion.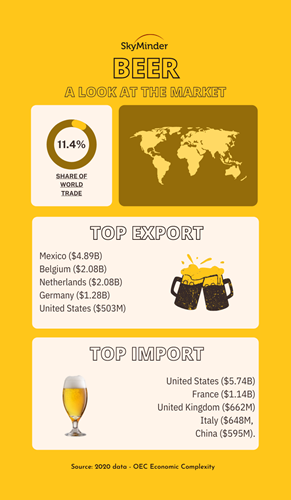 In 2020, the top beer exporters were Mexico ($4.89 billion), Belgium ($2.08 billion), the Netherlands ($2.08 billion), Germany ($1.28 billion), and the United States ($503 million). The United States ($5.74 billion), France ($1.14 billion), the United Kingdom ($662 million), Italy ($648 million), and China ($595 million) were the top beer importers.
Are you evaluating the possibility of doing business with a company in this industry? When looking for a new supplier, customer, or partner, it is important to find reliable information about the business. SkyMinder can help you assess your potential partner. Discover more about our solutions and don't hesitate to contact us!