Analysis and Studies - Country Analysis
Austria: a look at the market!
By SkyMinder Marketing Team June 23rd 2022
Once a great empire, Austria is a small nation located in the heart of Europe. It shares borders with Czechia, Germany, Hungary, Italy, Slovakia, Slovenia, and Switzerland by land. With a temperate and alpine climate, Austria extends over 83,878 square kilometers. The most important city in the country is Vienna, a historically important economic and political center. Graz, Linz, Saltsburg, and Innsbruck are also important cities. Since 1995, the country has been a member of the European Union and adopted the Euro as its currency.
Austria is one of the EU's most stable and rich economies. It is a highly industrialized country with an important service sector. The main industries are food and luxury commodities, mechanical engineering and steel construction, chemicals, and vehicle manufacturing.  Austria's GDP in 2021 was worth a total of $490.39 dollars, with a growth of 4.6% compared to the previous year.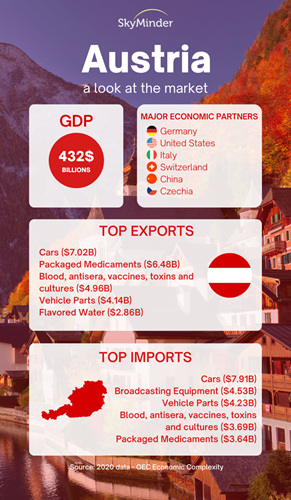 Let's give a look at Austria's imports and exports:
The total of Austria's exports in 2020 was worth $160 billion dollars. Cars ($7.02 billion), packaged medications ($6.48 billion), blood, antisera, vaccines, toxins, and cultures ($4.96 billion), vehicle parts ($4.14 billion), and flavored water ($2.86 billion) were the top exports.
Imports were valued at $165 billion. Cars ($7.91 billion), broadcasting equipment ($4.53 billion), vehicle parts ($4.23 billion), blood, antisera, vaccines, toxins, and cultures ($3.69 billion), and packaged medicines ($3.64 billion) were the top imports.
Are you evaluating the possibility of doing business with a company located in Austria? When looking for a new supplier, customer, or partner, it is important to find reliable information about the business. SkyMinder can help you assess your potential partner. Discover more about our solutions and don't hesitate to contact us