Analysis and Studies - Products analysis
Top Exporters of Crude Petroleum
By SkyMinder Marketing Team February 9th 2021
Crude Petroleum is the world's 1st most traded product with a total of $1.08T (5.86% of total world trade).
It is composed of hydrocarbon deposits and other organic materials and it is used to produce products such as gasoline, diesel, and various other forms of petrochemicals.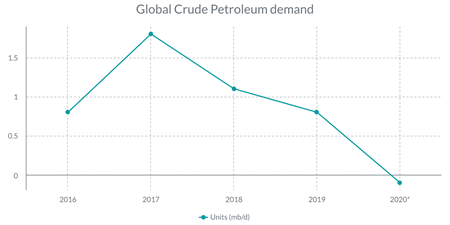 SOURCE: https://www.iea.org/reports/oil-2020
* Units -0.1 mb/d is a forecast of the total 2020
 units' demand of Crude Petroleum
Many economists agree that Crude Petroleum has been the single most important commodity in the world, and it still remains so. It is the primary source of energy production.
In recent years, the exports of Crude Petroleum grew by 36%, from $792B to $1.08T. Trade in Crude Petroleum represents 5.86% of total world trade.
Which is the major exporter of Crude Petroleum?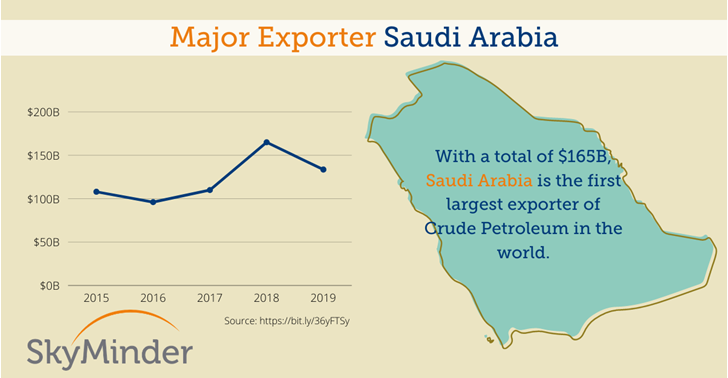 What about other 4 top exporters of Crude Petroleum?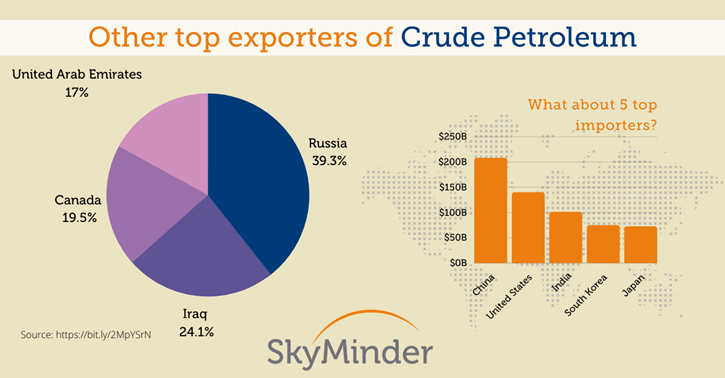 Due to the COVID-19 pandemic and economic slowdown, Crude Petroleum prices collapsed in the spring of 2020.
Preliminary estimations indicate that global Crude Petroleum consumption declined by 9.0 million barrels per day (b/d) in 2020, the largest annual decline going back to 1980 (Energy Information Administration data).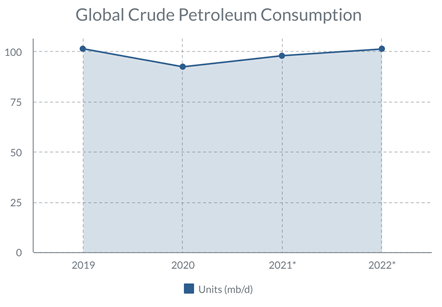 According to EIA forecasts, Crude Petroleum consumption will rise by 5.6 million b/d in 2021 and by 3.3 million b/d in 2022 as the result of global GDP increase. Based on data and forecasts from Oxford Economics, EIA assumes global GDP declined by 3.9% in 2020 and that it will grow by 5.4% in 2021 and by 4.3% in 2022.
SOURCE: https://bit.ly/2MNEwIY 
* 2021-2022 units (mb/d) are EIA forecast
SkyMinder helps you in your international business and in better knowing your potential partner or supplier. Check our business information platform: Contact us